In Vancouver, we take pride in our world-class physicians and recognize that their dedicated service makes the world of difference for our patients, our organization and our community. At the recent Vancouver Medical Staff Awards, we celebrated 193 such physicians, each marking a milestone service anniversary in 2017.
Dr. Marshall Dahl, president of the Vancouver Medical, Dental & Allied Staff Association, hosted the event on June 12. Celebrants, family members and colleagues filled VGH Paetzold Auditorium close to capacity for a lively occasion honouring the contributions and commitment of our long-service physicians.
Congratulations to our colleagues and VCH-Vancouver's 2017 Years of Service Award recipients.
40 years of service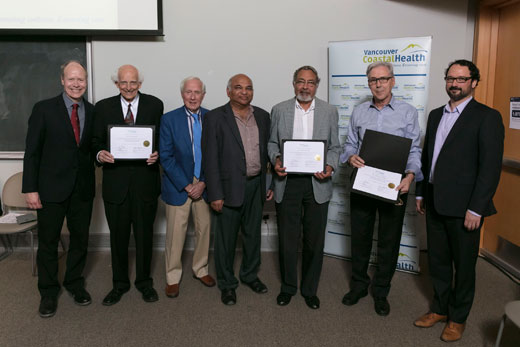 Award recipients:
| | | | |
| --- | --- | --- | --- |
| Anthony Koelink | Hartmut Henning | William Bowie | Jean Carruthers |
| Thomas Demco | Clive Duncan | Brian Day | Alexander Magil |
| Abdulkarim Jiwa | Man Kwan | | |
35 years of service
Award recipients:
| | | | |
| --- | --- | --- | --- |
| Raymer Grant | Roy Purssell | Robert Bluman | Robert Harpur |
| Reginald Lo | Lorna Sent | Waldemar Unger | Paul Dubord |
30 years of service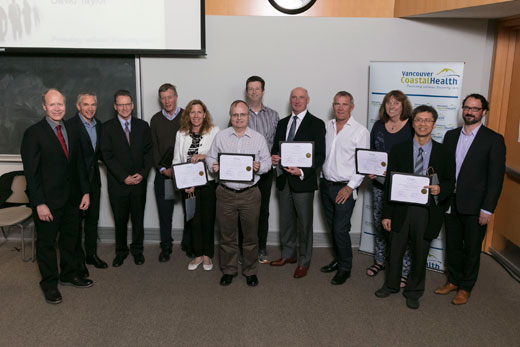 Award recipients:
| | | | |
| --- | --- | --- | --- |
| Theodor Weideman | Bruce Campana | Jillene McEwen | Simon Ko |
| James Lai | Stephen Roberts | Dianne Miller | Siegfried Erb |
| Choi Yeung | Hubert Anton | Pearce Wilcox | Roy Cline |
| Piotr Blachut | William Regan | Edward Jones | Paul Keown |
| Gary Eng | Stacy Elliott | Wesley Friesen | John Levy |
| Noelle Davis | James Boyle | David Taylor | |
25 years of service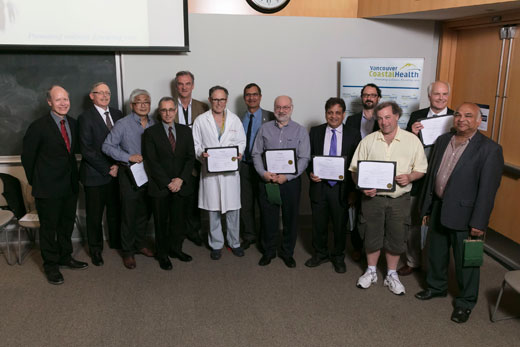 Award recipients:
| | | | |
| --- | --- | --- | --- |
| Paul Kapnoudhis | Anatoli Strelzow | Harvey Lui | Frank Chiu |
| Ranbir Mann | Beverly Spring | Kenneth Gin | Giovanni Mancini |
| Thomas Elliott | David Patrick | Lorne Clarke | Gabriel Hirsch |
| Derek Godinho | Francis Law | John Richards | Paul Bishop |
| Marcel Dvorak | Stephen Anderson | David Irwin | Andrzej Koczapski |
| Gary Lazar | Charmaine Kim Sing | Thomas Pickles | Martin Gleave |
20 years of service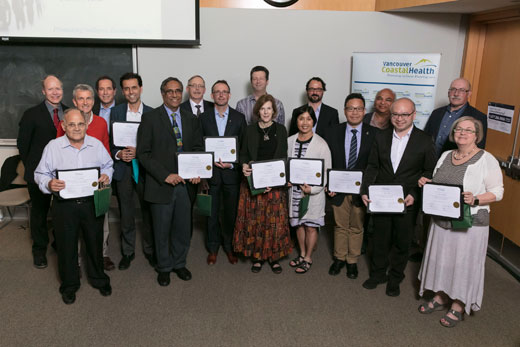 Award recipients:
| | | | |
| --- | --- | --- | --- |
| Brett Fitzmaurice | Caroline McIntyre | Darlene Baggoo | Rainer Borkenhagen |
| Cindy Chang | Saul Isserow | Hetesh Ranchod | Roger Wong |
| Brian Thiessen | Virginia Devonshire | Lynn Raymond | John le Nobel |
| Robert Levy | David Cabral | Jan Dutz | Angela How |
| John Kelsall | Alice Klinkhoff | Kam Shojania | Aly Karsan |
| Patrick Doyle | Ian Mackenzie | John Maguire | Gary Almas |
| Hiram Mok | Colleen Northcott | Stephen Schertzer | Stephen Ho |
| William Yee | Savvakis Nicolaou | Ross (David) Brown | Peter Lennox |
| Jerry Chen | John Reid | | |
15 years of service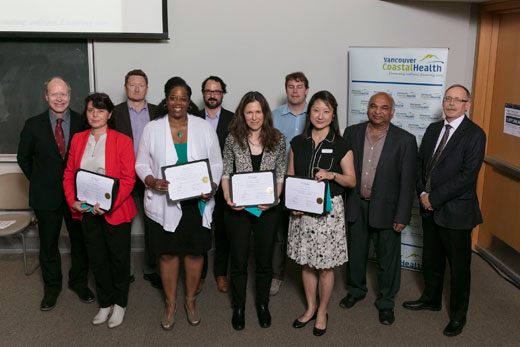 Award recipients:
| | | | |
| --- | --- | --- | --- |
| Andrew Sawka | Stuart Herd | Judit Bakonyi | Hubert Chao |
| Fiona Duncan | Guat Tung | Marlene Wickman | David Wilton |
| Petra Selke | Michelle Johnson | Wendy Cook | Kenneth Madden |
| Donna Forrest | Kevin Song | Ismet Tejpar | Katherine Craig |
| Rosemarie Hatala | Blair Leavitt | Jennifer Yao | Najib Ayas |
| Pierre Guy | Torsten Nielsen | Brian Skinnider | Auby Axler |
| Maureen Ceresney | Heather D'Oyley | Andrea Grabovac | Larry Ong |
| Andrzej Buczkowski | Lillian Wong | Erin Brown | |
10 years of service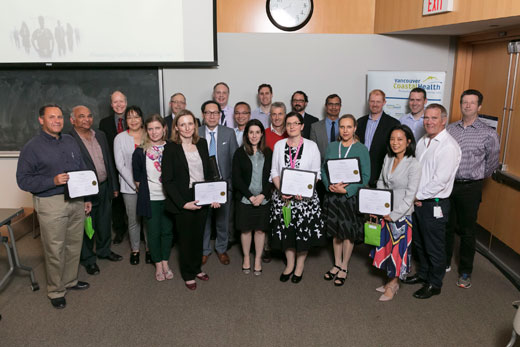 Award recipients:
| | | | |
| --- | --- | --- | --- |
| Michael Barker | David Malherbe | Carolyne Montgomery | Fredrick Purdy |
| Louis Scheepers | Bevan Hughes | Henrik Huttunen | Jonathan McEwen |
| Samson Ng | Chad Kim Sing | Kenneth Markel | David Sweet |
| Eric Cadesky | Cynthia Chan | Eithne Durnin-Goodman | Dimithra Hippola |
| Ronald Joe | Ron Maki | Ranbir Mann | Daniel Ngui |
| Julian Ospina | Manisha Rajora | Todd Sakakibara | Geoffrey Cundiff |
| Janice Kwon | Blair Butler | Tracy Pressey | Shahnawaz Virani |
| Breay Paty | Ehud Ur | Sujaatha Narayanan | Maryse Power |
| Nora Cummins | Iain McCormick | Cheryl Ho | Monica Beaulieu |
| Steven Helper | Andrei Krassioukov | Rajiv Reebye | Christopher Carlsten |
| John Swiston | Jason Kur | Jennifer Reynolds | Michael Allard |
| Bruce McManus | Douglas Webber | Dailin Li | Nadejda Medvedev |
| Jennifer Grant | Faiyaz Dedhar | Caroline Cho | Marius Dimov |
| Patrice Dunn | Judith Leong | Megan Roberts | Ana-Maria Bilawich |
| A. Vertinsky | Naisan Garraway | Sean Bristol | Anthony Papp |
| Keith Baxter | Joel Gagnon | John Warner | |
Related story